&
PORTRAIT
january 2020
- please, do not use outdated versions -
"Her electrifying intensity and deep involvement with the emotional narrative of each piece makes an indelible impact and feels like a throwback to a golden age when making music felt like an act of celebration. (…) Kolly's hypnotic performance is a triumph of interpretative incandescence as she weaves in and out of the music's surging textures."

Julian Haylock reviewing "French Impressions" in "Strad Magazine"
The best Swiss soloist in one century! With Rachel, we can finally hope swiss artists will play a major role on international stages. It has been quite calm, recently..."
K. Luhers-Kaiser - Sonntagzeitung
The young Swiss soloist Rachel Kolly began playing the violin when she was five years old. She is considered one of the most talented Swiss musicians of her generation with a quality of vibrato that has been compared to great violinists of the past. Revered for her passion and temperament coupled with a kaleidoscope of colour and innate musicianship the music world has continued to shine the spotlight on Rachel in Europe and around the world. Signed to Warner Classics Rachel enjoyed great success with her first concerto recording being voted 'Recording of the Year 2012' by ICMA and her second concerto recording having been nominated for the same concerto category for 2013 after its release in October 2012. Rachel Kolly has won every major Swiss award including the Swiss Paderewski Prize in 1997, 1st Prize in the Execution Musicale "Young Talents" of 1998, the Kiefer Hablitzel Foundation in 2000, Foundation Award Fridl-Wald in 2002 and Leenards Foundation in 2004. She won the 2005 Fifth International Competition "Julio Cardona" where she also received the prize for Best Interpretation of a Contemporary Work. Today she can add the outstanding Supersonic Award (Pizzicato Magazine) and ICMA Award 2012 for her CD recordings to this highly regarded list.

Rachel Kolly made her debut as a concerto soloist when she was 12. She has played with the Rotterdam Philharmonic Orchestra, BBC Philharmonic Orchestra, Seville Symphony Orchestra, Orchestra Sinfonica della RAI of Torino and the WDR Rundfunkorchester Köln alongside being invited to orchestras as prestigious as Tokyo's NHK Symphony Orchestra, Lausanne Chamber Orchestra,
Orchestre National des Pays de la Loire
, Orchestra della Toscana ("In Bernstein's Serenade the young violinist Rachel Kolly d'Alba drew every possible lyrical quality from a cerebral and a slightly complex score with a sound rich in colours and expressive intensity. It was an excellent performance greeted by huge applause..." Giuseppe Rossi – Quotidiano Nazionale, November 2012), Toulouse Chamber Orchestra, Orchestre Symphonique de Bienne, Orchestra Sinfonica di Milano "G.Verdi", Berner Symphonieorchester, Orchestra della Radio Svizzera Italiana of Lugano, Fribourg Chamber Orchestra.

In season 2013/2014 Rachel performed with orchestras including the Rotterdam Phil, Bournemouth Symphony Orchestra, WDR Rundfunkorchester Köln, a tour with the Orchestra Bolzano, Symphonic radio Orchestra Frankfurt. As a recitalist she plays with her duo partner Christian Chamorel at highly regarded festivals like the Menuhin Festival in Gstaad, Schleswig Holstein Festival, Festival de Menton, Festival "Encuentros" and "Mozarteum" at the Teatro Colon in Buenos Aires, the "Sigall" in Chile, the "International Festival of Flanders", or at Teatro Olimpico. Her US debut in the Chicago International Beethoven Festival brought this enthusiastic review by Alan G. Artner in the Chicago Tribune: "Swiss violinist Rachel Kolly made a sensational Chicago debut (…) Kolly gave an impassioned reading, seductive in tone and visionary in spirit. She made of it Art Nouveau architecture for the ear, a thrilling achievement."

Rachel Kolly signed worldwide with the major recording label
Warner Classics
in 2010. Her first release of six sonatas by composer Eugène Ysaÿe, "
Passion Ysaÿe
", burst onto the musical scene receiving unanimously high praise from international press. Her next CD, "
French Impressions
", was released in October 2011, this time as soloist with orchestras conducted by Jean-Jacques Kantorow and John Axelrod in French music by Saint-Saëns, Chausson, Ravel and Ysaÿe. " This new recording,"French Impressions", contains many beauties, some hidden and others more obvious. We are presented with a marvellous recording confirming the class of its main protagonist. (…) These pieces suit the young Swiss violinist's style as she travels through them with impeccable taste and plenty of technique to make them hers, with a spontaneity that comes from ease grace." (March 2012 / Claire Vaquero Williams - "Scherzo"). This CD was voted Best Recording of the Year in the "Concerto" category by the prestigious International Classical Music Award (ICMA) 2012. Rachel's next recording "
American Serenade
" features works by American composers Gershwin, Bernstein and Waxman with continuing support from M. John Axelrod and L'Orchestre National des Pays de la Loire. Released worldwide in October 2012, has been rated "Supersonic" by "Pizzicato", 5 ***** in Diapason Mag, France and was immediately nominated for the same ICMA award.

In 2015, Rachel released « fin de siècle », an Album with chamber music works by Chausson and Franck. It was immediately nominated for an ICMA Award 2016 in the "chamber music" category.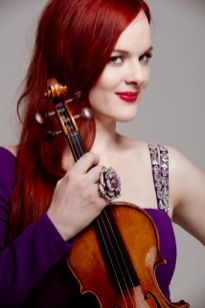 Rachel Kolly received her violin-teaching diploma from Lausanne Conservatoire when she was 15. She then continued her studies in the class of Igor Ozim in Bern and graduated from there as a soloist whilst also benefiting from lessons and master classes with other masters who have included Franco Gulli, Ivry Gitlis, Boris Kushnir, Hansheinz Schneeberger and Thomas Kakuska (of the Alban Berg Quartet). Her interests extend into the worlds of contemporary music, analysis and composition and she continually studies in those areas creating her own new work alongside collaborations with composers such as Tristan Murail, Eric Gaudibert and Jürg Wyttenbach.

Rachel Kolly became an Ambassador for Handicap International and her first work for the charity was in Cambodia in February 2013. Since then, she organised concerts for the organisation. She is a devoted mother to her daughter and she also writes short stories and novels. Rachel has been privileged to play on a magnificent Stradivarius violin made in 1732 since April 2011.

In season 2015/16, highlights include performances with Nürenberg Symphoniker recording further repertoire with them, a re-invitation the ROSS Sevilla and re-invitation with Orchestra sinfonica di Milano. Rachel will make her debut in Turkey with Bilkent Symphony Orchestra, Brahms Concerto with OSUL, a re-invitation with Asuncion Symphonic Orchestra, central America tour (Mexico, Nicaragua, Panama, Cuba, New Orleans and Miami). 2016 also marks the release of her next Album « Lyrical Journey » with violin sonatas by Strauss and Lekeu, In 2016 Rachel will present the first edition of her own Chamber Music Festival in Vevey /Switzerland) and continue her extensive charitable work via charity concerts for Handicap International.

www.rachelkolly.com