<-- Back
- 01. SEP 2011, published in « Muso Magazine »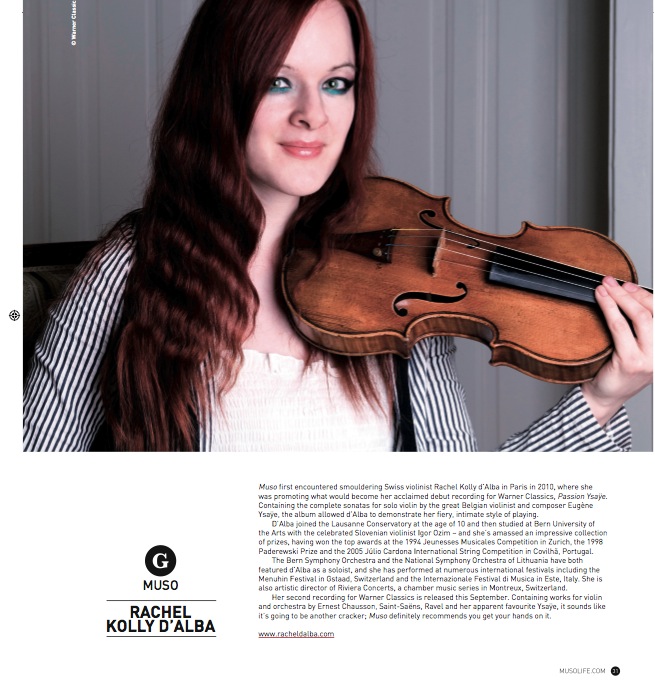 MUSO
Rachel Kolly d'Alba
Muso first encountered smouldering Swiss violinist Rachel Kolly d'Alba in Paris in 2010, where she
was promoting what would become her acclaimed debut recording for Warner Classics, Passion Ysaÿe.
Containing the complete sonatas for solo violin by the great Belgian violinist and composer Eugène
Ysaÿe, the album allowed d'Alba to demonstrate her fiery, intimate style of playing.
D'Alba joined the Lausanne Conservatory at the age of 10 and then studied at Bern University of
the Arts with the celebrated Slovenian violinist Igor Ozim – and she's amassed an impressive collection
of prizes, having won the top awards at the 1994 Jeunesses Musicales Competition in Zurich, the 1998
Paderewski Prize and the 2005 Júlio Cardona International String Competition in Covilhã, Portugal.
The Bern Symphony Orchestra and the National Symphony Orchestra of Lithuania have both
featured d'Alba as a soloist, and she has performed at numerous international festivals including the
Menuhin Festival in Gstaad, Switzerland and the Internazionale Festival di Musica in Este, Italy. She is
also artistic director of Riviera Concerts, a chamber music series in Montreux, Switzerland.
Her second recording for Warner Classics is released this September. Containing works for violin
and orchestra by Ernest Chausson, Saint-Saëns, Ravel and her apparent favourite Ysaÿe, it sounds like
it's going to be another cracker; Muso definitely recommends you get your hands on it.
<-- Back