Rachel Kolly is without question one of the three best violinists of her generation. Kolly has that magical touch that commands attention from the first sounds that strike the ears—a shimmering, embracing tone (she plays a 1732 Strad), a fast vibrato that recalls Heifetz, a sense that there is no effort involved in her playing, a huge range of colors and dynamics, and a capacity for unlimited expressivity without resorting to exaggeration.
Robert Markow, Fanfare Magazine USA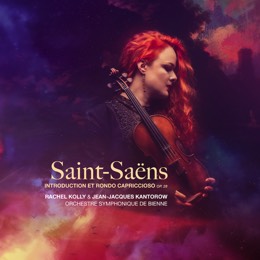 SAINT-SAËNS - DIGITAL ONLY
Release date: WR 04. 2022

Introduction et Rondo Capriccioso Op. 28
available on all streaming platforms on 4 MARCH 2022

Rachel Kolly, violin
Jean-Jacques Kantorow, conductor
Orchestre Symphonique Bienne
"The best Swiss soloist in a century! With Rachel, we can finally hope Swiss artists will play a major role on international stages. It has been quite calm, recently...
K. Luhers-Kaiser, Sonntagzeitung
Her electrifying intensity and deep involvement with the emotional narrative of each piece makes an indelible impact and feels like a throwback to a golden age when making music felt like an act of celebration. Kolly's hypnotic performance is a triumph of interpretative incandescence as she weaves in and out of the music's surging textures.
Julian Haylock, Strad Magazine