Rachel Kolly has been an ambassador of
Handicap International
(HI; known in English-speaking countries as Humanity & Inclusion) since 2012. Passionate and committed, she supports the organization's actions through various media appearances and by arranging concerts for its benefit. Rachel decided to dedicate some of her time and energy to serve HI, in order to help the most vulnerable.
Rachel Kolly, Miller Studio in Zurich | (C) Andrea Monica Hug

Commitment to HI
Rachel Kolly is a much loved and sought-after performer, giving numerous concerts in Switzerland and abroad. Since her first visit to Cambodia in February 2013 as an ambassador for Handicap International, Rachel has been organizing and performing concerts to benefit HI.

In 2016, Rachel participated in the inauguration of an expansion of the mission of Broken Chair, the powerful art installation commissioned by HI. Standing in front of the headquarters of the United Nations in Geneva, Switzerland, Broken Chair represents today the cry of civilian populations massacred by explosive weapons during armed conflict. Through her participation in this event, Rachel helped HI raise awareness of this tragic issue.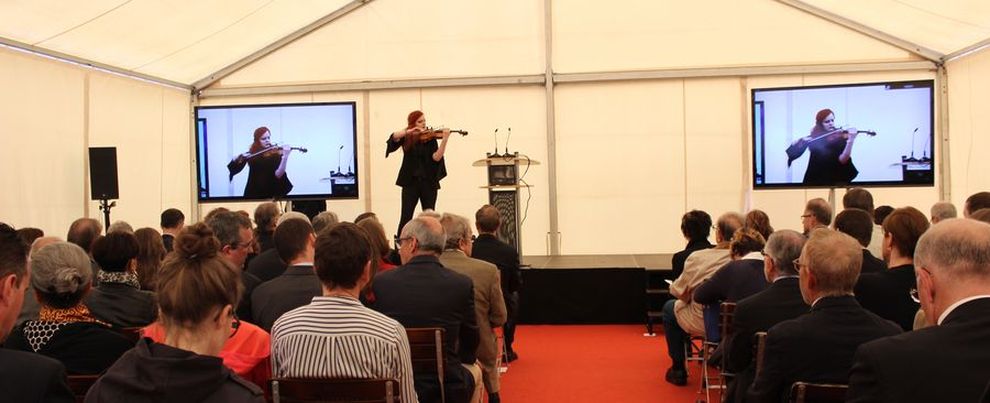 Rachel at the Broken Chair opening ceremony in June 2016.

Rachel in Cambodia
As a representative of Handicap International, it was important for Rachel to learn about their projects on the ground and meet their beneficiaries. In February 2013, she travelled to Cambodia, a place with very high symbolic value, as it represents the birthplace of HI in 1982. In Phnom Penh, Rachel learned about HI's road safety project to raise awareness of road hazards and promote access to public transportation for people with disabilities. In Kampong Cham, she had the opportunity to visit HI's functional rehabilitation and orthotic and prosthetic fitting centre. In Siem Reap, she discovered the organization's mother and child health project. Finally, she assisted at an information and prophylaxis session for mothers and their children in a small village. In Kampong Cham, she also gave a concert. Very moved, she recalls: "I cried with joy when I saw how people reacted to the sound of my violin by laughing, letting all their emotions show, without a filter." Rachel returned to Switzerland a changed person. She was particularly struck by the spirit of mutual helpfulness and solidarity among Handicap International's stakeholders and teams. She was also impressed by the solidarity among the families she visited and Handicap International's long-term commitment: "Handicap International's staff works on a long-term basis with the organization's beneficiaries, who are followed up for several years to teach them to walk again and to become a little more autonomous. If you only knew, with a little we can do a lot. With a lot, we can do even more!"